Does Digital Core REIT Deserve to Trade at Double the Yield of Keppel DC REIT?
Does Digital Core REIT Deserve to Trade at Double the Yield of Keppel DC REIT?
In today's post…
This post was originally posted here. The writer, Brian Halim is a veteran community member and blogger on InvestingNote, with a username known as @3Fs and has close to 2482 followers.
The prospect for a Data Reit centre demand was so hot last year that when Digital Core REIT decided to list in SGX last year, there were many that jumped into the bandwagon – benchmarking its performance to the very resilient Keppel DC REIT which has been around longer.
Myself included – I subscribed to the IPO and successfully received 2,600 shares which I have kept till today. Since it is a relatively small position, I have not looked at it with much detail but have been keeping a tab on its development since the share price plunged over the last year or so.
‌The funny thing about this is a lot of the REIT structure, sponsor support and asset quality are pretty much the same, but the two tales of the REIT are an exact opposite. Will this be an opportunity or a trap for the shareholders of Digital Core Reit?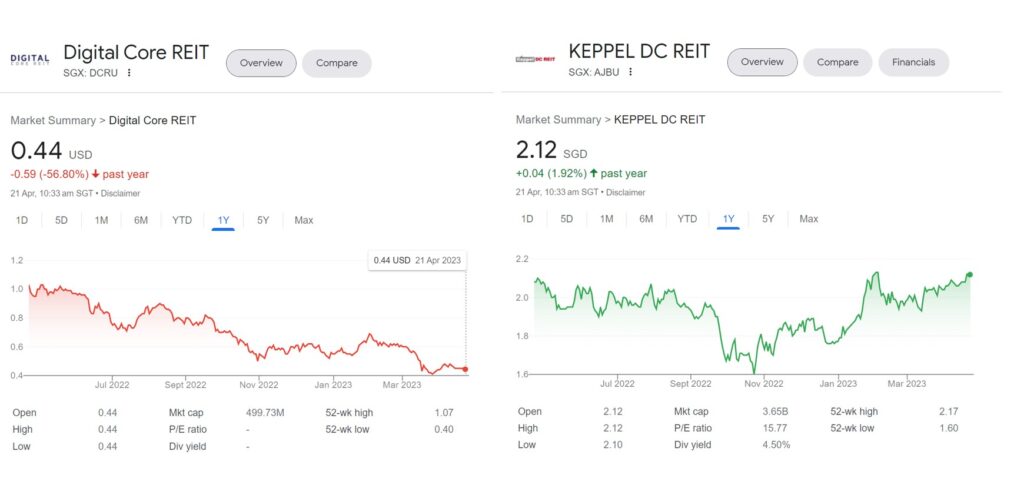 Keppel DC REIT has coincidentally released its Q1 2023 operational updates earlier this week so let's quickly review that first.
‌Toplines and operational revenue seemed to perform well year on year. NPI also increased by 6.3% indicating resilience in the business and demand level. DPU also increased moderately by 3% despite the higher finance charges for this quarter.
‌The company kept a a high portfolio occupancy at 98.5% and a long WALE at 8.2 years.
‌Aggregated leverage gearing is at 36.8% and ICR is at 6.8x so they are structurally safe from the sticky and persistent high interest rate floating for the next few years.
‌One interesting to note though is that the share price is currently trading at a massive 50.4% premium to NAV and dividend yield annualised using Q1 2023 is at 4.8% – not much upside if you ask me with risk free rate floating easily around 4%.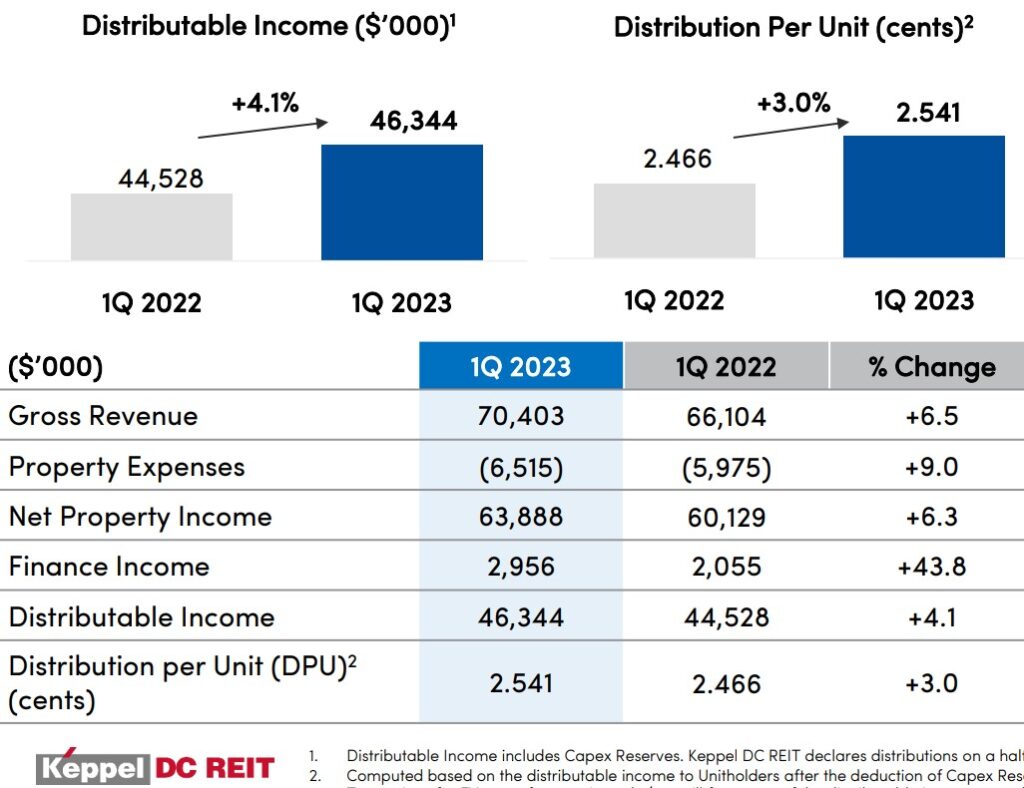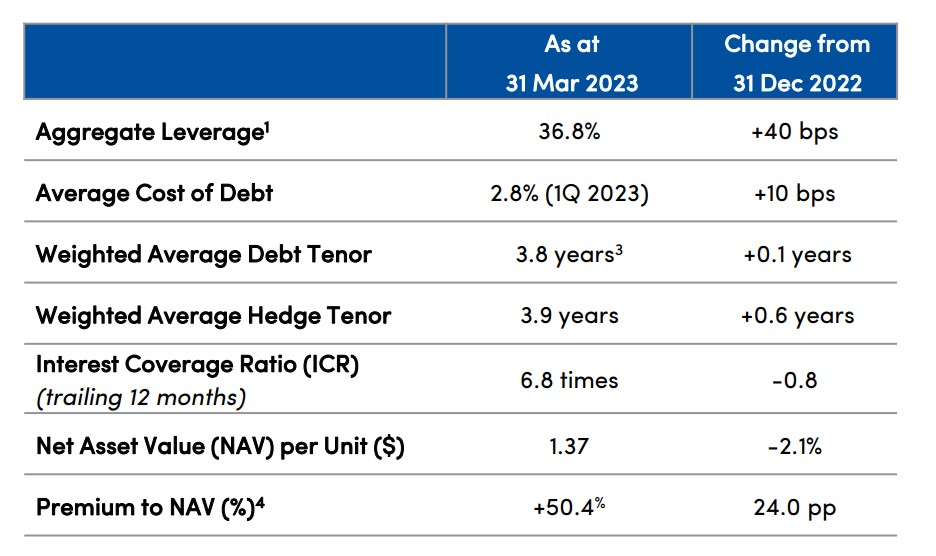 Digital Core Reit will be releasing its Q1 2023 operational key updates next week on the 26th of Apr, so a lot of people will be looking into it with interests.
‌It is hard to ascertain at this point if it is indeed Digital Core Reit that has been unlucky with its tenant prospecting, or the poor performance is due to management execution.
‌Tenant bankruptcy can happen to any REIT in today's current climate, but successive occasions have been quite rare.
‌For Digicore, their fifth largest customer by concentration filed for bankruptcy in April 2022 and vacated the premise in Jan 2023. Although this has no impact on the rental during the period which they continued to pay for their rental obligations (with exceptions to the last quarter where they forfeited their deposits), this has not boosted the confidence of unitholders at all.
‌Following this news quickly soon after that, the second largest customer which accounts for over 22.6% of the revenue is also facing issues and potential bankruptcy – which will put a big dent over the confidence of unitholders which is already fragile.
‌I've been following the news of Cyxtera in the past couple of months where they are trying to find a buyer but there's no further news till today. Their assets are worth $300m while they are currently trading at over sub $50m market cap, so it is worth noting that a white knight might come in. Still, it doesn't do any good to Digicore if Cyxtera were to downsize or vacate their space after all this.
‌And if this were to happen, I think there's easily another 10-20% down leg from here for Digicore just due to market sentiment alone and potential vacancy transition, although it is very likely that the sponsor will step up to protect as income support.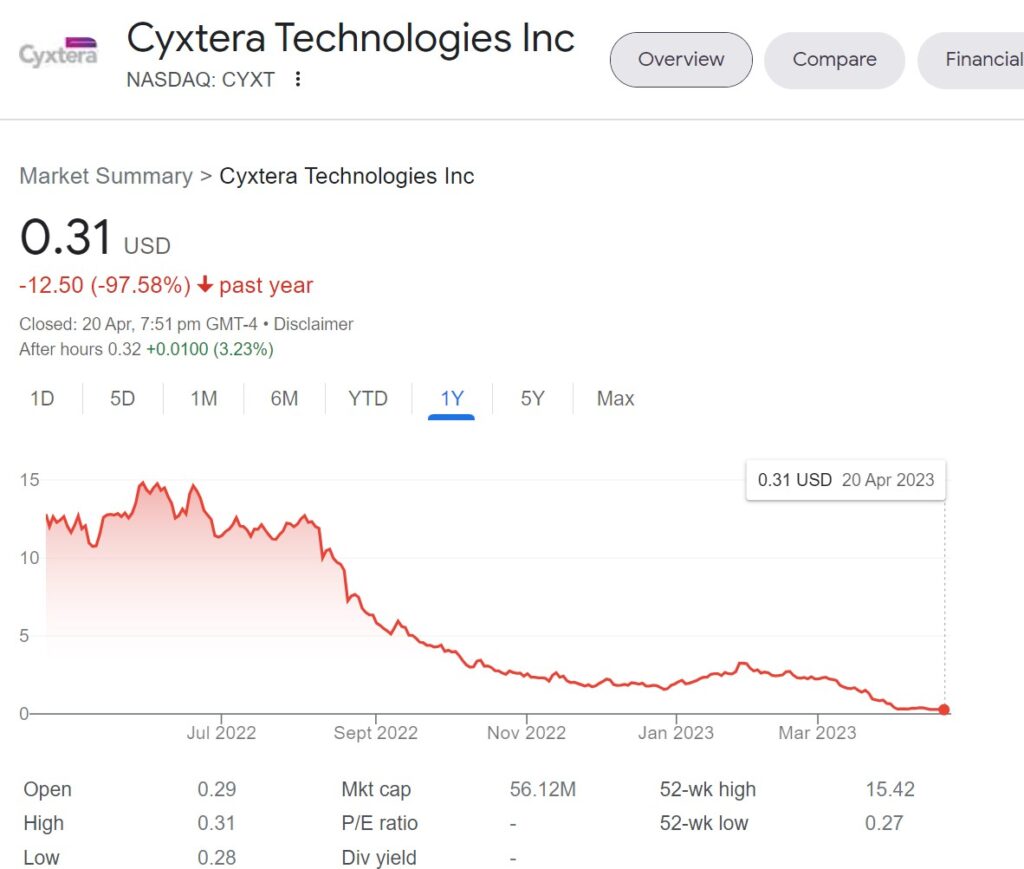 Final Thoughts
This is a classic example where you have a strong asset quality and potential demand but hit by unfortunate circumstances of tenant run and over-concentration in leasing due to external factors. The management will try and attribute this to bad luck but there's no argument that they will have to be taken as accountable in managing this too, and a lot could have been avoided had they tried to manage it more actively and spread the risks.
‌At this point, Keppel DCR is a more resilient REIT when comparing the two but with all the valuation metrics, it looks way overvalued for my appetite.
Digicore is a more interesting purchase with its 9-10% yield, but it has a ticking bomb at the moment waiting for it to explode. Since this is a known event and the tenant is a publicly listed company, it might be worth to wait and see a couple more months if there are any improvement in Cyxtera's prospects.
‌Although structurally Digicore remains strong, there are also questions about the REIT management capability in the execution with its short and terrible history in the past one and half year.
Once again, this article is a guest post and was originally posted on @3FS 's profile on InvestingNote. 
---
InvestingNote is the largest & most active community of investors & traders in Singapore & Malaysia. Find out more about us here.
Download our free app here:
Also, join our telegram channel here: t.me/investingnoteofficial
We're here to keep you in touch with the latest investing & stock-related news, happenings, and updates!