Sea Ltd (NYSE: SE) – Turning a Profit on All 3 Segments + Revised Valuation
Sea Ltd (NYSE: SE) – Turning a Profit on All 3 Segments + Revised Valuation
Sea Ltd (NYSE: SE) announced Q4 FY22 and Full-Year results last evening which came in favourably on the eye of the beholder.
This post was originally posted here. The writer, Brian Halim is a veteran community member and blogger on InvestingNote, with a username known as @3Fs and has close to 2500 followers.
I have written a few pieces of articles in the past relating to SEA, my last piece was back in May last year for its Q1 FY22 when sentiment was really poor at the time.
‌For those who wanted to know my average price on SEA, I started initiating it at $100 in March last year, and then continued averaging down for a couple of times. My average price is currently at around $86, although if you include the options premiums earned over the past 10 months on SEA (at around $13.5k worth), my post average price is probably lower at around $77.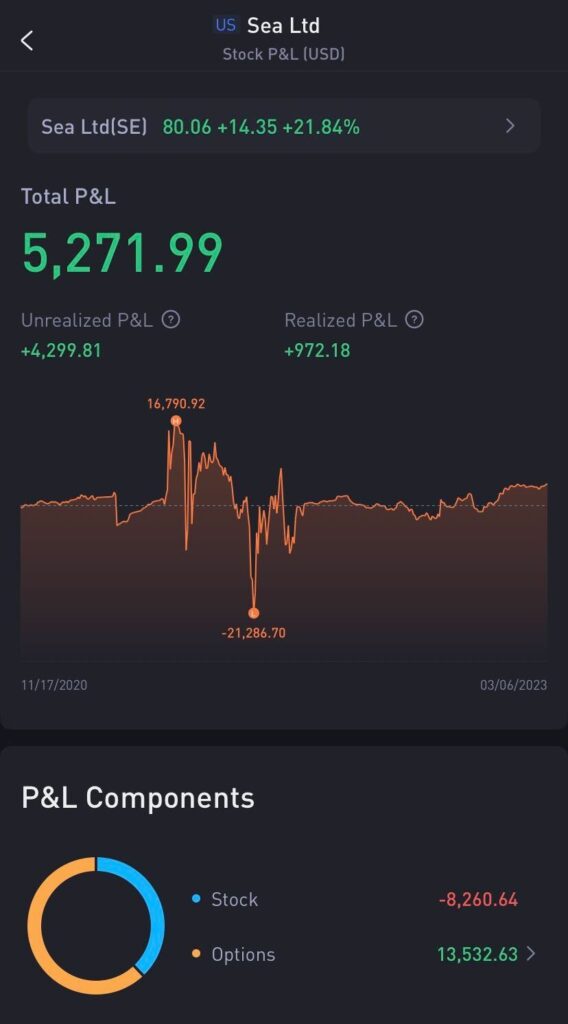 Q4 FY22 Earnings & Thoughts
Overall, the EBITDA profitability which SEA Ltd achieved in this quarter overshadowed everything else, but the market will soon get over this and start accounting for its valuations based on growth once again, so it is important that we look at each of its components.
But first, some of the highlights summarized below:
Total GAAP Revenue was $3.5b – up 7.1 year on year.
Total Gross Profit was $1.7b – up 29.5% year on year.
Total Net Income turned positive to $422.8m vs a loss of $(616m) in the same period quarter last year.
Total Adjusted EBITDA turned positive to $495.7m vs a loss of $(492m) in the same period quarter last year.
It is important to note that the company made a huge reversal of accruals of $130m from expenses which are likely due to the likes of bonus, compensation and other provision benefits for the year which they've scrapped off – and this leads favourably to the bottom line.
In the earnings call, management also mentioned that retrenchment costs were immaterial and hence there were no need for a separate disclosure on it. Most of the retrenchment also came in the function initiatives which they have de-prioritized or markets which they have exited.
A couple of things stand out to me in the table I have tabulated above:
First, important segments such as Shopee and SeaMoney have turned EBITDA positive this quarter, demonstrating to the market that they can be profitable after all.
Garena continues to decline at an accelerated rate, and this is very concerning although it is overshadowed in this quarter because of profitability headlines.
Marketing costs have decreased substantially leading to a decrease in operating expenses. This means no more the likes of ambassadors, advertisements and discount vouchers. Gone are the days of SEM and now the company is focusing on SEO.
R&D costs have also declined but not as substantially, I think the management might still look at this as one important component.
G&A costs likely include retrenchment costs which we do not know how much due to its non-disclosure.
Goodwill impairment is a reflection of the current market conditions and is due to its Garena digital entertainment, again this component is concerning.
In my last round of valuation almost 10 months ago, I came up to the valuations of $116, based on the price valuation multiple methodology below.

Let's see if this has now changed.
Net cash has now reduced from $8.8b to $6.9b.
Digital entertainment revenue has dropped massively and this has almost halved the valuations we did from the last round.
E-commerce thankfully came to the rescue, and I have increased my valuation multiples to benchmark against the current multiples of MELI, a leading giant e-commerce in LATAM area.
Nothing changed for SeaMoney currently as per guidance and actuals.


Conclusion
My revised calculation came up to $114 in the end, not far from the earlier valuation I did a few months ago.
While the profitability of now all the 3 segments takes centre stage, there are due worries for its digital entertainment segment, which have seen strong decline over the past couple of quarters.
The 20% gain in market last night was likely just a catch-up to its depressed market sentiments previously, but there is a lot more to go, especially if Garena continues to decline from here.
Once again, this article is a guest post and was originally posted on 3Fs's profile on InvestingNote.
---
InvestingNote is the largest & most active community of investors & traders in Singapore & Malaysia. Find out more about us here.
Download our free app here:
Also, join our telegram channel here: t.me/investingnoteofficial
We're here to keep you in touch with the latest investing & stock-related news, happenings, and updates!